What People Are Saying About Triad DogWatch
Dana Yelverton – High Point, NC
Thank you so much for your expertise and professionalism (and your good product). I may be contacting you about putting a dog door in the basement door in the future.
We want to hear from you! Write us a review on Google+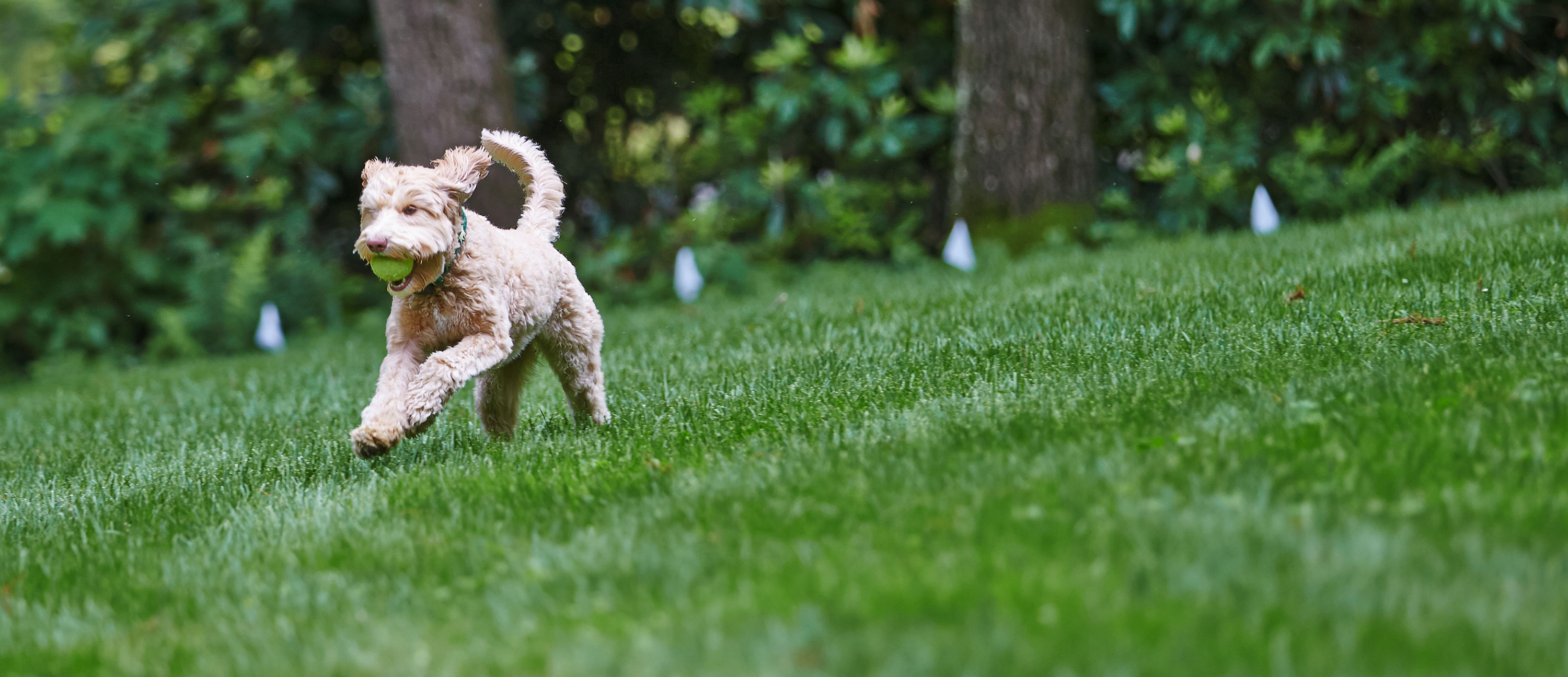 Leon and Patti Stokes – Summerfield

I've jokingly told you that the underground dog fence you installed for our Labrador retriever and beagle has been life-changing – but actually, it's not a joke. After eight years of walking our dogs on a leash three times a day, it is WONDERFUL to go to the door and let them out to play and exercise without being afraid that they'll run away, get hit by a car or be a nuisance to our neighbors. My husband was especially skeptical that the fence would contain our undisciplined and very energetic Lab, but within a week she learned her boundaries and hasn't once escaped. We only wish we had gotten the fence sooner!
We thank you profusely, and so do our dogs!
Dana Yelverton – High Point, NC
I can't believe how my life has changed in the past 1½ weeks. The dogs are going out alone AND COMING BACK! They have been tempted with tennis balls, people, and good smells to go beyond the barrier but they stop short. I haven't felt that sick feeling in the pit of my stomach when I can't find them and it feels great. I am just now getting them comfortable with going down into the "swamp" and then coming up the path by the storage barn. Until today, Jake has just eyed the flags and stood his ground. They need to continue to learn how to entertain themselves outside without me but I know that will develop. Thank you so much for your expertise and professionalism (and your good product). I may be contacting you about putting a dog door in the basement door in the future.
The Price's – K,ville
The Triad's own Dog Whisperer has made such a difference in our family, because Gracie is a part of our family. We can let her run and play and know that she is safe in our yard. Dave's customer service is the best I've encountered, and I have been comfortable and eager to share his name with others. Three of my friends have his Underground Dog fence!
Thanks for caring about what you do, Dave!
Shadow Russell
Dear Bill, Dave, and Alex,

Hey, Bill! Remember me? Huh? Do ya? Do ya? It's me, Shadow, the Beaglador! You know, half beagle, half black lab! I just turned 1, and I absolutely love my Underground fence! You wouldn't believe how fast I can shoot out of the house when I see squirrels terrorizing my yard! No more waiting for my people to attach me to the lead. I don't want to brag, but I learned how to "do the fence thing" in just a few days, which totally amazed my people. Why, I only got mildly zapped 2 or 3 times! My mom tried the zapper out herself, just so she'd know how it felt (these humans!).

I have been loving the freedom to run around the yard! I hang out with the kids at the end of the driveway until the school bus comes. When they get on the bus, I just sit quietly and wag my tail. Then, when the door closes, I race the bus to the other end of the yard! I'm fast, too! I also can be out there to greet them when they come home. You should see their faces light up when they see me! My people like the way you cinched the wire so that I can't get from the front yard to the back, or visa versa (rats!). They also appreciated the fact that when it was really cold this winter, they didn't have to look for the lead, or go out and unwrap me from a tree.

We cannot thank you enough for the freedom you have given us. The amount of warm, personal attention you gave us was great. Did you only do that because I'm so adorable? Nah, I have a feeling you give that level of service to all of your customers. Even if they aren't as cute as I am! We would recommend DogWatch Fencing to anyone and everyone who has a dog.

Really, really, REALLY affectionately.
Mrs. Cindy Elder – Winston-Salem, NC
We have really enjoyed our Hidden Fence. I called other fence companies and in comparison chose you because of several factors. Most importantly, you didn't try to sell a fence for price. You spoke of service (locally), quality of materials, placement of the fence to better suit our needs, what would be best for our 2 labs, and you asked questions about our "Jack and Abby". No other company did that.
I've heard of "unsuccessful" fence stories, whether self-installed or another company. We previously lost a dog to a speeding car on our street. I cannot explain to you "the peace of mind" we have knowing our dogs can safely play outside. Your knowledge of dogs, expertise and concern of my pets sold me on your company. We couldn't be more pleased. Thank you!
Valerie Stephens – Clemmons, NC
Dear Dave and Alex,

I have been meaning to write to you for some time now. Since you installed the DogWatch Hidden fencing and doggie door about 3 years ago, my dogs, Gemmy and Jet, are in dog heaven. My husband and I too are in heaven, because we have happy, safe dogs as well as a protected landscaped lawn! A picture is worth more than my words so here are a few. Please note the little white flags, which are removed now that the dogs know the boundaries. Also, behind them under the deck is the dog door entrance into the basement where they can stay cool in the summer and warm in the winter-the ultimate dog house. The path leads to the backyard. Our backyard is a big wooded area that the dogs love to play in. Deer, squirrels, chipmunks, raccoons, opossums, and many other woodland creatures wander about back there, and yet the dogs still remain in their enclosure. I have seen the dogs watching squirrels only a few feet away on the other side of the fence and the dogs will not run outside the fence. We have a busy road in front of the house as well, but I never have to worry about the dogs wandering into traffic. It is remarkable. Even when we go on vacation for weeks, with a friend coming by to take care of them daily, there have been no problems. We come home and the dogs are not stressed from spending a week at a boarding kennel. This system really works, has been completely worth it, and trouble free.

After following your careful training steps in the beginning, the dogs have been contained in the yard without any worries. This includes Gemmy the German Sheppard who is way too smart for her own good! I can go to work all day and know that my furry "kids" are safe and happy at home. They get to stay in dog heaven, which would not be possible without this system. Everyone with a pet should get this system. Thank you so much!
Connie Myers and Daisy too – Kernersville, NC
Thank you for giving us a "new" Daisy. When we adopted Daisy four years ago, she was just a little puppy who had started off life in a very bad situation. She had obviously been mistreated and then abandoned. She was a real sweetie from the start and Bob and I instantly fell in love with her. Because we loved her so much, we were very concerned for her safety and always put her on a tie-out when she went outside. We tried to make it as pleasant as we could by using an anchor and as much lead line as we could but still she wasn't free to run after the squirrels and, yes, the cats.

Now that we have Dog Watch, she is a different dog. She used to try to bound outside every time a door was opened and then didn't want to come back when called. We would spend a lot of time getting her back in the house or on her lead before a car could come down the road. Now that she knows she can go out whenever she wants too without being tied up, she doesn't feel the need to "escape" and comes almost immediately when called. She is a much, much happier girl and we no longer feel guilty about having to keep her tied.
Training Daisy was very quick and easy with Alex's expert instructions and patience. In the first few days, Daisy only needed a few "corrections" and she knew her boundaries. Within two weeks, we could let her out with no fear that she would run off and get hurt. Of course, I like to think she is brilliant but I know it was the excellent way I was taught to train her!
The best part about the experience was feeling that we were working with folks that cared as much about our dog as we did and would make sure that the system worked perfectly for Daisy and Daisy's folks. Thanks again. You give the type of great "customer service" that most businesses seemed to have forgotten how to do.
Lisa, Gary, and Sophie – Greensboro, NC
We live in a busy suburban neighborhood and have a 2-year-old female German Shepherd Dog named Quita. With our new Dog fence we can let Quita out in the yard where she can keep an eye on things for us (and let us know whenever another dog walks by). It was particularly nice this cold winter when we could just open the door and let Quita out first thing in the morning rather than put on a coat and boots to take her for a walk.

Our cat learned quickly that Quita will not cross the fence, and he appreciates being able to run outside the fence and sit in the woods and watch the dog watch him. Quita soon loses interest in the cat and wanders off to chase squirrels. Quita doesn't cross the fence when tempted by the squirrels, the school bus, bicycles, other dogs, or when my husband mis-throws the frisbee and it lands in the road. She just runs to the edge and sits and waits while Gary fetches the frisbee and throws it again. Passers-by are impressed that she stops, as she is an avid frisbee player.

We chose Triad Dog Fence in part because of Dave's experience with German Shepherd Dogs and his assurance that this breed can be trained to stay within the fence. He was right! Dave has a very nice way with dogs and he did not assume that our dog needed a strong correction just because she's a German Shepherd (as did a rival representative). In fact, our dog needed only a small correction before she realized she didn't want to cross the fence. We're very happy with our Dog fence and would recommend this brand and Dave and Alex Spain.

Thanks for making suburban life possible for our dog Quita.
Mike and Jane Haines – Reidsville, NC
Triad Dog Fence has made our life much happier for our two wonderful dogs and for us, their owners. The training sessions were easy because Dave gave clear instructions which helped us and our dogs understand right away. Dixie was trained a year earlier than Sandy but we have had no trouble with Sandy obeying the boundaries when she was brought into our household. The collars are put on the dogs first thing in the morning and the last thing taken off at night. We never have had the dogs go across the wire. We feel comfortable leaving our property with the dogs running loose. They wait at home for us to come home. Triad Dog Fence has been the answer to the contentedness of our dogs and to our peace of mind. We are very satisfied with your service and support. Thank you.
Sandra Moore – Winston-Salem, NC
Last year my family moved from an area where (for years) my cats could freely roam with no complaints from neighbors... to an area where for some reason MY cats were not accepted to run free(although other neighbors seem to be able to allow their cats to run free, but that's neither here nor there... First of all when I first moved one of my cat's got lost and was gone for 12 days and we were reasonably sure he would never return which broke my heart, and caused a lot of tears, until one Sunday morning he came home, needless to say there were tears of joy that Sunday morning. My baby was so dirty and much thinner, but he soon got a nourishing meal and cleaned up, and within a few days he had gained his weight back. I can't tell you how happy I was that he was home. It was then that I began to wonder what I could do to fence in that cat along with the other 3 cats that I have so that this would not happen again.
I thought to myself... after the trauma he must have endured those long 12 days and nights, surely he would stay closer to home, however I had neighbors complain that my cats were coming into their yards and they did not like that, so to be a good neighbor and to save my cats from being carted off some where by an angry neighbor I knew it was time to do something. My yard was already fenced in, but of course cats can jump fences so that was not much help.I had the opportunity to get a few estimates for the invisible fence. Alex from Triad Dog Fence came out and met with my husband and gave us a quote for the fence, along with a couple of other people from a couple of other companies other folks seemed to want to "bash" the competitors which personally I think is very tacky, not to mention the other prices did not seem as reasonable.
When we contacted Dave with questions before making our decision, he was very eager to help and he seemed extremely knowledgeable about his product. He explained how we would first need to train the cats indoors with the indoor unit, Dave and Alex were completely polite and professional through the entire process. The fence and the collars have worked well since the day of installation. As long as the collars are on my cats I do not worry about them leaving the premises. All in all I have to say that I have been extremely pleased with the purchase and I do believe that we made the right choice when we chose Triad Dog Fence for our underground fence.
Tell Us Your DogWatch Story!
We'd love to hear from you, too! Please consider filling out our customer feedback survey to tell us about your experience with DogWatch.